NUBIAN

PAGEANT

S

YSTEMS
bids you
"

Aloha from Maui, Hawaii

!"
{to view the previous or next picture tap the above inside blue pointers}
     Welcome to Nubian Pageant Systems (NPS)  again, an established International African Cultural Pageant System with almost 30 years of professional & cultural pageant experience in Hawaii, New York, New Jersey & Nova Scotia, Canada, and ready to launch in other countries thanks to your feedback!
     It is NPS's calling to help build Self-Worth & Esteem in Children, Women & Men who commit to joining our program between the ages of four (4) to Adulthood, through instilling Our rich African Cultural Pride & teaching Our Ancestors' Contributions & Achievements (to the world); as a reminder take a 5-minute virtual tour of our last video (filmed in Maui at Hawaii's Queen Ka'ahumanu Shopping Center in 2012) affirming their past for at least four (4) Million Years of African Culture by announcing "ARDI," Everyone's Common Ancestor — tap the right sidebar page link "ARDI-Our Common Ancestor."
     NPS's training program noted provides results in (1) character building and (2) teaching lifelong skills which can be witnessed through several testimonials by our past titleholders.  As always, we look forward to hearing from YOU year-round.  In the same breath, NPS is always seeking new Contestants to participate in NPS's pageant program(s) each year throughout the world, so please feel free to submit your interest(s) via our email provided in the sidebar page link called "Contact Me/Us."
So, to this end, NPS is:
Receptive to potential Franchisee interest [potential regional pageant director(s)] to expand into new territories throughout the world as noted … and
Available per your request(s) for lectures and/or educational presentations to share our African Cultural tributes (themes) presented at past pageant productions, now archived at the New York Public Library (The Schomburg Center for Black Research).
==================
     As noted in the above marquee, NPS's relatively new 5th eBook/Book, the 2nd Volume of the previously titled "Novemberteenth / Aprilteenth" –now on Amazon and Google Play eBooks— is a 100 page book/181 page eBook that highlights: (1) NPS's recently achieved U.S. Registered Trademark (Service Mark): "Novemberteenth / Aprilteenth" along with (2) displaying the 'Goods and Services' statement of this tradename upon its front book cover, and (3) contains within its contents evidence of documents/events/acts that occurred within the first 12 years of the Virginia Colony, 1607 to 1619 AD.  For your information, however, if you are further curious to find out what the 1st volume's book cover was just tap the inside link "Novemberteenth / Aprilteenth," or the sidebar link bearing this title.
     Allow me to dig a bit further since you've read this far … keep in mind, if you read it, this 5th eBook/Book ("The 1st Legal Slavery Period in British Colonial America") provided authentic documentation granting Absolute Freedom and Reparations (in the form of acreage), and also serves as a 400 year old hidden Legal Precedent, which qualifies as being Case Law, proving that Absolute Freedom and Reparations were granted to the 400 survivors of this White Slave Colony, the Virginia Colony. Well, guess what? This Legal Precedent can be used to serve as an example that Reparations were issued/paid without interruption, serving as the opposite of what occurred [interrupted] towards providing Reparations upon African Slave Survivors [notwithstanding the issuance (ratification) of the 13th Amendment in 1865 AD by the U.S. Congress that shortly followed a formally written "U.S. Military Field Order Declaration" granting Reparations in early 1865 AD].
     A little about issuing another "Proclamation" that NPS self-certified within these eBooks/Books: what substantiates self-certification is the easily tracible facts/truths via each eBook's references/sources. Needless to say, NPS is very excited about being part of the movement to convey these facts/truths about White Slavery in this 1st official English Colony called Virginia.  And lastly, for your convenience, most of these eBook/Books include a "Sneak Preview Timeline" of  NPS's completed screenplay for this first 12-year period for your convenience.
====
     A word about your thousands of comments: Since the release of NPS's eBooks, it has received tens of thousands of comments (making it a bit overwhelming), but it has only posted over 4,600, i.e. posting hundreds reflecting your honest opinions about its eBooks and responding to others that ask for advice.  There were quite a few that suggested NPS should have a donate button … well, that's a good idea, so, to take care of that notion, that's why NPS priced its eBooks at nominal fees at $3.99 or less in online book repositories like Amazon.com and Google Play eBooks.  Beyond that, however, NPS would like to thank you for your comments, support and remind you to continue sending your valuable comment(s), for they provide NPS with your assessments about the noted subject matter, one that is not well known about the Virginia Colony …   
=====
NOW … NPS HAS A QUESTION JUST FOR YOU!!!
     Did you know that White Slavery lasted for over 250 years in America? (9 years, overground, during the first 12 year period, 1610 to 1619, and underground for over 240 years)? … which is never described or talked about in America.  Well, from a high level this thesis is presented,  proved also via authentic documentation, and contained within NPS's 1st eBook titled "Indentured Servitude Unchained."  The other major scope outlined in this eBook is a short critical analysis upon the Spanish adjective word "Negro" and its cousin the "N" word; this scope lends an ear to determining when, where, and how these words garnered their derogatory strength for use internationally, which was during the 15th Century.  So, with these sensitive subject matters, NPS trusts that you will seek to read this 1st eBook.
Now, take a moment and glance at:
NPS's Blog Posts with comments from the public about these eBooks or Android App … they also list other events and offer you the ability to provide your feedback.
NPS's Author page provided by Amazon.com via this link; and
NPS's Customer Ratings via the Amazon.com link immediately below …
     So, to learn more along with getting NPS's 5-eBook/Book Series: [(1) "Novemberteenth / Aprilteenth II", ( (2) "Reasonable Cause…", (3) "In Denial: …", (4) "Novemberteenth / Aprilteenth" and (5) "Indentured Servitude Unchanged"] visit the following respective repository link: Amazon.com.  If you don't have a kindle reader, you are able to use Amazon.com's Cloud Reader.
==================
To summarize each eBook for your convenience: The 1st eBook's title is now a U.S. Registered Tradename and the 2nd volume of the respective title "Novemberteenth / Aprilteenth"; the 2nd eBook's title that appears, respectively, is a 7 page essay that provides the highlights of my 2021 book ("In Denial: …") that qualified me to be a 2022 'Nominee for the Pulitzer Prize'; the 3rd eBook, contains a copy of the 1624 AD testimonial document written by the Survivors of the first 12 years of this Virginia Slave Colony [for you to test your translation skills] along with a copy of the written text proclaiming their Absolute Freedom and Reparations, which serves as a legal precedent pointing to Reparations paid to the survivors, contrary to Reparations not paid, to date, to Descendants of African Slaves since the ratification of the 13th Amendment by the U.S. Congress in 1865 AD; the 4th eBook, on the other hand, reflects the 2nd eBook's major theme about the first 12 years of this English Virginia Colony, 1610 to 1619 AD, and also explains NPS's reason for titling the eBook: "Novemberteenth / Aprilteenth," while the 5th eBook redresses NPS's claim that White Slavery existed underground in America for over 240 years, viz., The Virginia Colony, 1619 AD, until the Emancipation Proclamation was issued in 1863 AD.
What appears above is a short slideshow of NPS's respective eBook cover(s), its Android App cover, and a few public domain pictures that are highlighted in these eBooks as evidence of White & Black Emancipated Slaves from New Orleans, LA, dtd. 1863 AD.
=========
Ase', Hotep and Mahalo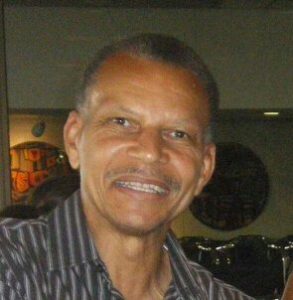 George Rainey, Jr.
Pageant Owner/Franchisor
CFE-Retired (Recently appointed to ACFE's Advisory Council)
CISSP-Retired (Designation of Emeritus)