Nubian Pageant Systems (NPS), a 30 year old company, is very pleased to announce that it has been granted its applied for legal tradename (trademark/service mark): "Novemberteenth / Aprilteenth" by the U.S. Patent Trademark Office.
It is also pleased to announce that its 5th eBook/Book (link below) was recently published, which is also titled "Novemberteenth / Aprilteenth" (also should be noted as the 2nd Volume), and has been added to NPS's eBook/Book series.
BEHOLD THAT THIS 5th EBOOK/BOOK IS AVAILABLE ON GOOGLE BOOKS VIA THIS LINK:

GOOGLE PLAY EBOOKS/BOOKS

and

AMAZON.COM
***********
eBook/book cover for "novemberteenth / aprilteenth ii – the 1st legal slavery period in british colonial america"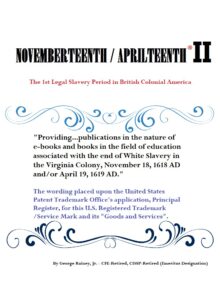 This eBook/book, like its previous 4, takes the reader closer to the following documents/acts/events performed in the Virginia Colony between 1607 to 1619 AD, but here's the kicker for its need: 
It describes why we can safely say (from authentic records) that this 1st 12-year period of the Virginia Colony, 1607 to 1619, was 'The 1st Legal Slave Period in British Colonial America'–sanctioned institutional slavery–because it was sanctioned by the powers that were in England during that period; and
It uses the exclusive commercial legal rights to advertise/market nationally the first 12 years of the Virginia Colony as a white slave period which points to, as noted, having the comfort of claiming that this period was 'The 1st Legal Slavery Period in British Colonial America' … based on this revelation you can't tell me you don't know when 'The 2nd Legal Slavery Period occurred in America!!!
Besides what is noted, presented below is NPS's Proclamation self-certifying the facts used to constitute this 5th eBook/book.  NPS is not interested/waiting for certification or validation from U.S. History Professional/Institutions simply because these facts have been deliberately hidden/buried for over 400 years. 
     In this 5th eBook/Book, considered NPS's most significant manuscript (magnum opus), I hold the set forth "truths to be self-evident that all" the Virginia Colonial Records I read (London Court Records & the Virginia Company of London) were used to reflect the hard facts exposed in the previous four (4) eBooks/Books: "Indentured Servitude Unchained", "Novemberteenth / Aprilteenth", In Denial: …Reparations…" and "Essay for 'Reasonable Cause for Reparations' for the Descendants of African Slaves" to the best of my abilities for expression, and this research paper is its supplement which now makes this 10 year research project the product of a '5 eBook/Book Series'.
Whereas, this document serves as the approval, again, from Our Billions of Celestial Ancestors who came before Us to make these earth-shaking announcements to the World.
Whereas, the Expose' of these hidden facts is America's "Worst kept Secret" for over 400 years.
Whereas, the Virginia Colonial Court and Company (Virginia Company of London) Records validate the authenticity of these events/documents for:
Documenting the 1st 12-year period of the Virginia Colony, 1607 to 1619 AD.
Now, based upon these noted Records, You (especially our Younger Generations) are Highly Justified to CLAIM that the majority years of this 1st 12-period of the Virginia Colony indulged itself in a period of sanctioned Institutional slavery (nine-consecutive years) upon its inhabitants using harsh measures, while the three previous years comprised a period of consistent starvation; and
From this research project, why and how this 1st 12 years embodied such conditions of slavery and starvation.
Whereas, NPS has been granted, in October 2022, the U.S. Registered Tradename (Service Mark) "Novemberteenth / Aprilteenth" to fulfill the following 'Goods and Services': "Providing…publications in the nature of e-books and books in the field of education associated with the end of White Slavery in the Virginia Colony, November 18, 1618 AD and/or April 19, 1619 AD."
Whereas, another Historian measured and assessed such authentic evidence and I rendered his conclusions to this Book "Novemberteenth / Aprilteenth II;"
Whereas, within this 1st 12-year period there comprised only White (European) Slaves of not more than 2,000 colonists.
Whereas, the Survivors' Testimonial Document of 1624 AD is archived in the Colonial Records of Virginia and set forth herein this paper, and contained in it a shocking suggestion for the later generations, Us, to use: the application of the notion of Censure to determine whether their 12-year treatment in the Virginia Colony was 'run morally and properly'.
Whereas, the Survivors' Freedom Document dated November 18, 1618 (Emancipation Proclamation if you will), officially called "Instructions to George Yeardley," declared absolute freedom to all the Survivors (roughly 400 inhabitants) has been hidden from the history books of American Public Education for over 400 years this past November 2022; this document was delivered to the Survivors of this Slave Colony in April 19, 1619 AD. 
Whereas, it be known that the year 1619 AD, authenticated the beginning of a structured Institution/System for Indentured Servitude, and distribution of acreage ([Reparations] case law).
Whereas, the continued denial of Reparations to Descendants of African Slaves has hit the mark of over 150 years to date.
Whereas, the previous four (4) eBooks/Books and this research paper combines a total of over 150 questions for one to use for assignments to pursue the respective answers contained; and
Whereas, a Script for a Screenplay has been prepared for a movie/film of this 1st 12-year period of the Virginia Colony with a sneak preview of its timeline contained in this research paper.
Now, Therefore, I, George Rainey, Jr. (Elder) do proclaim the statements of authenticity of factual events/documents stand, henceforth, certified because such facts were retrieved from the Colonial Records of Virginia.