BEHOLD THAT THESE NEW EBOOKS ARE NOW AVAILABLE ON GOOGLE PLAY EBOOKS, AMAZON.COM VIA THESE RESPECTIVE LINKS HEREOF
***********
Queen Sophie Charlotte of Great Britain, who reigned during the 18th Century,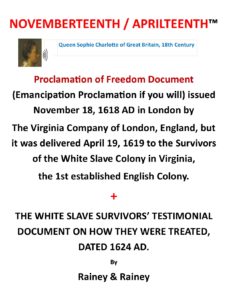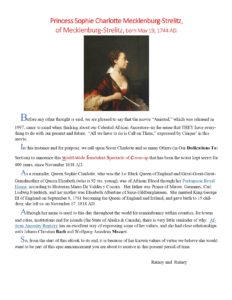 along with Our Billions of Celestial Ancestors, who came before us, assisted in announcing this 400-year old cover-up of hidden facts about the Virginia White Slave Colony, 1607 to 1619 AD.
     The description below her picture can be read on our link: "Novemberteenth / Aprilteenth," and it serves as our inside cover of this new eBook
     Besides Queen Charlotte reminding the world that she was Queen of England during the 18th Century and her assisting us in this announcement, this major expose' of facts, that occurred 400 years ago, undermines the integrity of our knowledge about the truth of American History (The Virginia Colony).
     Leaning on the strength of our "Proclamation for You"  issued on June 1, 2018 (which is summarized below) and without certification or validation from U.S. History Professional/Institutions, WE CERTIFY the forthcoming statements as FACTS that occurred for anyone (especially the younger generations) to use HENCEFORTH because they are hard facts from the Virginia Colonial Records (Court and the Virginia Company of London).
We read several Virginia Colonial Records (Court & the Virginia Company of London) to validate the authenticity of the above and below statements;
From these records:
-We researched the 1st 12-year period of the Virginia Colony, 1607 to 1619 AD;
-We understood why and how the idea of the Institution of Indentured Servitude was conceived for the Virginia Colony; and
-We understood who the intended Indentured Servant really was during this 1st 12-year period;
This 1st 12-year period embodied itself with Slavery and Starvation upon its 1st wave of settlers;
This 1st 12-year period comprised White (European) Slaves;
Thus, a document and/or documents:
-For Absolute Freedom (aka "Instructions to George Yeardley") was issued November 1618 AD for these White Slaves;
-Was written by the Survivors of this 1st 12-year period and found for your minds' eyes; and
-Of Petitions/Grievances were documented against the Virginia Colony of London and its treasurer;
Other Historians' assessments are outlined; and
A Script for a Screenplay has been prepared for a movie/film of this 12-year period of the Virginia Colony with a sneak preview of its timeline contained in this eBook.
So, join us in this quest … and perhaps leave your comment(s) via the provided link:
Rainey & Rainey: Posted on Saturday, September 02, 2017 4:55 PM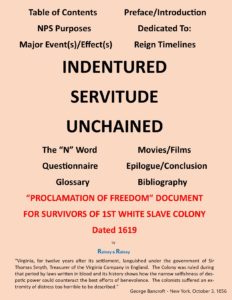 Was the Indentured Servant in America during the Colonial Period fulfilling a labor contract, or was He/She a Slave, or both?
Was the 1st English Colony, Virginia, for the 1st 12-years (1607 to 1619 AD) a slave colony?
If this was a slave colony, were there Survivors?–how were they freed and was there a Proclamation of Freedom Document issued?
Was there an Underground Railroad for White Slavery for over 240 years in America until President Lincoln issued the Emancipation Proclamation in 1863 for White and Black Slaves?
Nubian Pageant Systems: Posted on Thursday, January 15, 2015 8:40 AM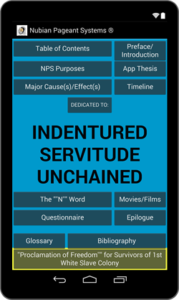 WE are REVEALING THE ONLY "PROCLAMATION OF FREEDOM" DOCUMENT  (Emancipation Proclamation if you will)  FOR WHITE SURVIVORS OF THE 1st ESTABLISHED WHITE SLAVE COLONY (IN VIRGINIA)  THAT WAS OFFICIALLY ISSUED IN 1618 AD AND DELIVERED IN 1619 AD.

AND NOW, 400 YEARS LATER  WITH TENS OF MILLIONS OF WHITE DESCENDANTS  (OUR WHITE BROTHERS & SISTERS AND FELLOW AMERICANS),  WITH US ALL CO-EXISTING AFFORDS US:  1) TO HAVE THAT CONVERSATION ABOUT REVEALING THIS NOTED TRUTH AND  2) TO HELP HEAL RACISM, WHAT WE CONSIDER A MENTAL ILLNESS IN AMERICA,  AND FOR THAT MATTER, GLOBALLY.

THESE TRUTHS WILL HELP TO DISPEL THE MYTH THAT SLAVERY IN AMERICA ESPOUSED ITSELF ONLY upon AFRICANS, but contained within this Cultural App is evidence that WHITE SLAVERY IN AMERICA SECURED  ITSELF, THOUGH UNDERGROUND, FOR OVER 240 YEARS THAT COMMENCED IN 1607 AD — UP UNTIL 1863 WHEN PRESIDENT LINCOLN ISSUED THE "EMANCIPATION PROCLAMATION" TO ABOLISH SLAVERY FOR WHITES & BLACKS …HENCE WHAT SHORTLY FOLLOWED IN 1865 WAS THE 13TH AMENDMENT OF THE U.S. CONSTITUTION THAT LEGALLY ABOLISHED SLAVERY AND INVOLUNTARY SERVITUDE FOR THOSE WHO HELD SUCH STATUS.

Over 200 Comments

Community Service & eBooks…- over 2,000 comments
NPS Owners: Posted on Tuesday, October 09, 2012 10:16 AM

Aloha from Maui, We are pleased to receive your comments relative to our work(s) in the community, and we trust you in turn are also spreading the truth about us all being each other's keeper. Take care…
April of 2011 – On "East Coast" Tour – Tri-State Region (NY/NJ/CT)
NPS Owners: Posted on Thursday, March 24, 2011 8:11 AM

Aloha Again, Nubian Pageant Systems' Owners (from Maui, Hawaii) are on tour on the "East Coast" for the next few months giving presentations & providing displays of their cultural pageant work with local communities, specifically in the Tri-State region.  During the month of February, like last year, Nubian Pageant Systems and the African Americans on Maui conducted African Cultural presentations (World Black History) at Borders Book Store in Maui, Kahului (HI)–our deepest thanks to Borders Book Stores senior management for the past 15 years and now Starbucks.
 Copyright© 1995 to 2022 George Rainey, All Rights Reserved